Movie Stars Cafe: Food, Dancing Superheroes, Villains and More
Late last year, I bought vouchers for the Dino Buffet at
Movie Stars Cafe
. However, due to an epic fail of planning, we weren't able to use them earlier. And when we were already free to do so, all the days we can actually go were fully booked. Thank God someone on
my Facebook page
was happy to take and use the vouchers before they expire.
Fast forward to April of 2014, the beau and I finally got around to trying this movie-themed restaurant and cafe that we've been dying to try ever since we first saw it last year. I have friends who've already been to
Movie Stars Cafe
, and most of them led me to believe that food is not the main thing you'd go for when you visit this movie memorabilia studio, cafe and restaurant in one... But the ambiance, eye-candies and live entertainment.
Even from the outside, one can already tell
Movie Stars Cafe
isn't your ordinary American resto. At the entrance, there's a life-size
Spider-Man
figure ready to greet diners. There's also a
Nightmare Before Christmas
setup which I can't help but ogle at.
Inside the movie-themed restaurant, I can't help but notice how bright and happy the whole place looks. There are a ton of TV screens, movie posters, more life-size action figures, and even a stage with ramp.
Movie Stars Cafe
is definitely one lively restaurant!
The Eye-Candies
Normal people would become giddy and immediately take photos of the place, the action figures, and even the cosplayers. But being the reserved couple that we are, the beau and I first settled on a table before someone noticed us and very heartily welcomed us...
Who's excited for The Amazing Spider-Man 2? I know I am!
It's Spider-Man!!! He was super friendly and accommodating that it was him who actually went up to us to have photos taken! Super love the shot I took of him with his action figure twin on the background. He also insisted to do a creative selfie with his signature up-side-down pose. We really warmed up to the place and to the whole theme thanks to this fellow, who is actually our favorite Marvel superhero!
(Spider-Man, you're awesome!)
When Spider-Man went around to entertain other diners, the beau and I happily went our separate ways roaming around
Movie Stars Cafe
and checking out the movie accents, action figures, cosplayers, other eye-candies of the place.
T-800 from Terminator and Batman
Stormtrooper from Star Wars and Shrek
Atom from Real Steel and V for Very Good (I mean, Vendetta)
A wall full of movie memorabilias
Even the wash area has movie posters!
April 25, Friday's Program
(Didn't get to take a photo of the 7PM to 9:30PM program, but that's what we got to watch.)
At
Movie Stars Cafe
, cosplayers don't just roam around the restaurant to get photos taken. There are also performances every 30 minutes -- dance, action skit, musical, etc.
The Dino Buffet
This was what the beau and I were supposed to be availing should we had the time to use our vouchers last year. And while we were going for a la carte during this visit, I didn't miss checking out (and snapping photos of) the buffet spread.
Dinner Buffet
(6PM to 10PM)
Monday to Thursday - P699
6 to 12 y/o P499; 3 to 5 y/o P299; 2 and below FREE
Friday to Sunday, holidays and day before holiday - Add P100
Drink-All-You-Can (soda, juice, coffee, tea, draft beer) - Add P99
Midnight Buffet
(10PM onwards)
Fixed Rate with Drink-All-You-Can - P599
Mussel Garlic Cream Pasta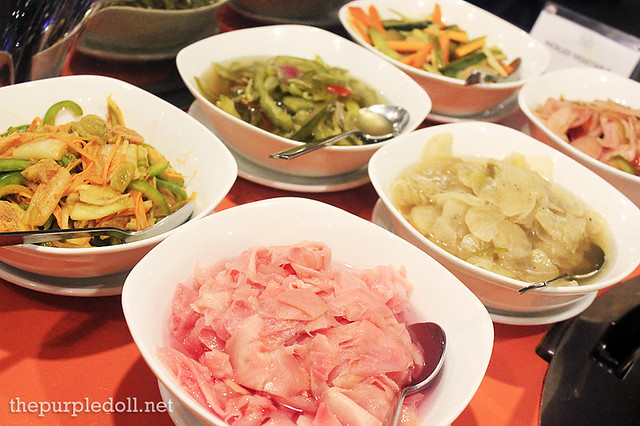 Kimchi, pickles and other relishes
Fish Fillet, Pork Cutlets, and Potato Wedges
Seared Beef Tenderloin, Roasted Chicken, and Roasted Porkloin
Caramelized Onions and Beef Patties
Tomatoes, Cucumbers and Cheese
Buns for the burgers and hotdogs
The buffet spread at
Movie Stars Cafe
is actually pretty good. Variety is very limited though, but this is definitely a good line-up of dishes for kids and kids-at-heart. The rate seems a little pricey, but just remember that you're not just paying for the buffet but also for the shows and the whole experience.
(Something to justify the buffet rates.)
A la Carte + Our Experience
If you're not a hefty eater, I suggest ordering a la carte. You'll still get to enjoy the show anyway! And you even get to take home leftovers!
*wink*
The show was already on when we started digging in. Gotta love how Spidey is moving to the groove! Even the kid who went on the stage seems to be having a good time.
(Next time, we'll reserve a seat near the stage to get a better view of the performance.)
Ghostface from
Scream
seemed to had tons of fun dancing with the
Barbie Girls
too!
For starters, we had the
Jackson Five
which had chicken lollipops, buffalo chicken wings, chicken sate, 2 kinds of chicken tenders (plain and almond), vegetable crudites, and honey-mustard dressing, blue cheese, buffalo sauce and thousand island. Although a little pricey for what it is, the beau and I enjoyed this big platter for our appetizer. We especially loved the chicken lollies and buffalo wings, plus the blue cheese dip!
For carbs, we had the
Hawaii Five O
which is a mixed seafood pasta with clams, fish, squid and prawns in spicy marinara sauce. Both the beau and I didn't expect much from this dish. However, upon first bite, we found ourselves hooked! Though we don't really watch the show Hawaii Five O, we'll definitely keep this order in mind the next time we visit the resto. It was flavorful and perfectly seasoned. The linguine was al dente too!
✓ Stars BBQ Pork Ribs (P960)
Though I was a little sad this dish didn't get its name from a movie or TV show, the beau and I still found ourselves enjoying every mouthful of this fire-grilled, double-basted St. Louis-style pork ribs which comes with potato chips, some vegetable siding, coleslaw and apple-cinnamon relish. Just like how we want our ribs, these were tender and fall-off-the-bone. Every bite also gives off a smokey, sweet and savory flavor that's oh-so-addicting! I actually took home half of the serving, and my little sis was also hooked!
Memory Lane (P420) and a Spider-Man action skit
(with Venom and Green Goblin) for dessert!
To end our dinner on a sweet note, we had the
Memory Lane
which is a tall and big slice of layered cheesecake, Toblerone and vanilla, served with strawberry syrup. While the cheesecake is pretty good, it's the Toblerone part which I really really liked. The dessert can do away with the strawberry syrup too, as I actually found myself avoiding getting my cheesecake touched by the syrup.
Get a 10% Discount at Movie Stars Cafe!
Whether you dine a la carte or go for their Dino Buffet, you can get 10% discount from your total bill by just presenting this code to your server upon ordering.
You can print this coupon out, save it on your mobile phone or tablet, or just jot down the discount code. And oh, this doesn't have an expiration date, and can even be used over and over again. So if you're planning to bring your family, friends and other loved ones to
Movie Stars Cafe
, why not use this discount coupon code and save some ₱₱₱?
Tip: Make sure to call in for reservations (especially for weekends) since Movie Stars Cafe can easily get booked-up.
THE VERDICT
The beau and I went in with not-so-high expectations, but we definitely left impressed! First off, the food was far better than what we thought it would be. While we haven't tried the Dino Buffet yet, we can assure that their a la carte dishes are pretty good. We also can't ask anything more for service. Prompt and courteous servers, live entertainment every 30 minutes, and pictures and fun memories we can take home... Dining at Movie Stars Cafe is definitely an experience on its own. So if you have kids, are yourself a movie buff, or just want to have some fun, give this movie-themed resto a try!
Taste - 4/5
Ambiance - 4/5
Service - 4.5/5
Price - 4/5
Overall Value - 4/5
Movie Stars Cafe, SM Mall of Asia
By The Bay (Beside Hooters), Seaside Blvd.,
Manila Bay Reclamation Area, Pasay City,
Metro Manila, Philippines
(02) 550-1234; 0908-200-9999; 0905-277-9999
Official Website
Facebook Page