10 Reasons To Love the New Sky Tower at Solaire
A destination for the ultimate urban dweller,
Solaire Resort and Casino
in the Entertainment City on Aseana Avenue, Parañaque has already been synonymous to luxury ever since it opened its first phase March of last year. However, just a month ago, it introduced more reasons for all of us to visit. To add to its already-existing glitz and glamor is the new spacious and opulent leisure complex, the all-suites
Sky Tower
.
If you've already been to
Solaire Resort and Casino
before, then you probably already know how luxurious and
lakas maka-donya
this urban destination is. But the new
Sky Tower
brings the whole of
Solaire
to even more luxurious heights.
"The Sky Tower elevates Solaire to another step higher into the very top tier of world-class integrated resorts, and is a tremendous game-changer in providing best in class guest experience,"
said Thomas Arasi, Bloomberry Resorts Corporation president and chief operating officer.
I know you're probably excited to learn more about
Solaire's Sky Tower
, and I'm more than excited to share my experience of the media and bloggers walk-through I've been part of, with you. So without further ado, let me list down all the goodness that had me at hello -- the
10 Reasons to see, experience and love the new Sky Tower at Solaire
!
1. International Dining at Waterside Restobar
Before our
Sky Tower
tour officially started, we were first treated to a sumptuous lunch at the sleek yet very welcoming all-day dining restaurant,
Waterside Restobar
. We were served with tapas, and more Latin American and Mediterranean specialties for mains. And while I didn't delve much on
Waterside's
"bar" part, the place has a circular bar that showcases a colorful display of wines and spirits, and a list of promising cocktails.
Jabugo ham with pineapples and blue cheese, Chorizo with sweet melon and mint, Bruschetta with aubergine caviar and salsa Lucia, and Humita (sweet corn baked in husk)
Sardanillas with olive oil, Freshly-baked bread with olive oil and balsamic vinegar, Asparagus salad with lemon and goat milk, and Burritos with red onion pickle
Beef brisket and jumbo prawns, Crack-back chicken, Paella Valenciana,
and Pineapple ravioli with chili and sorbet
The restaurant also features a number of show kitchens like the paella cooking station, the churrascaria, the rotisserie, and the tapas bar -- all promising to offer good food perfect for dining and lounging against the backdrop of saffron Manila bay sunsets.
2. World-Class Accommodations
Haven't I mentioned that the
Sky Tower
is an all-suites 5-star hotel? Yup, this 17-story tower is a clear epitome of luxury, featuring suites that range from 124 square meters to as large as 936 square meters!
Spacious and super comfy living area
Ultra comfy king size bed with 100% cotton linens
Luxurious bathroom with separate walk-in shower, a bath tub,
and twin vanity marble sinks
During the walk-through, we toured the 158-square meter big
Grand Suite
(at a whopping P35,000 or USD 735 per night) that has a majestic view of the Manila bay, a luxurious king bed, a separate living and dining room, a functional kitchen, a spacious walk-in closet, a separate powder room, and a stunning bathroom with Salvatore Ferragamo bath amenities on top of the suite's gold leaf ceiling finish and lavish yet timeless interior and décor.
How I'd love staying in one of these suites... If only the rates weren't as jaw-dropping. Haha!
3. Art Pieces by Notable Filipino Artists
The first phase of
Solaire
is already an eye-candy to every visitor. But the
Sky Tower
proves to be even more impressive and
bongga
with 24K gold accents on its ceilings, multi-million peso crystal chandeliers, and art installations by notable Filipino artists.
Every wall and corner at
Solaire's Sky Tower
is perfect for a photo opp! A beautiful wall of mummified flowers, a refreshing man-made waterfall, eye-catching paintings, inspiring sculptures, and more splendid pieces that don't only stand out as a backdrop but also as the main subject in a photo.
4. Ultimate Shopping Experience
Although not yet open, this hallway at the
Sky Tower
will be home to top designer brands and international specialty stores come early 2015. And while I doubt my wallet will ever be ready, I'm still as excited to find out the brands that will be giving
Sky Tower
guests the ultimate shopping experience.
At the moment though, this aisle which will be called
The Shoppes
, is lined with different Mona Lisa renditions -- a really interesting gallery that inspires and gives me the goosebumps at the same time, all of which pieces are personal collection of artist and gallerist Soler Santos.
"The Mona Lisa Project" by West Gallery will only be on display until January 15, 2015.
5. Sweets & Tea Time at Oasis Garden Cafe
Every hotel has a lobby cafe and cake shop, but
Sky Tower's
is probably one of my favorites. And I haven't even eaten here yet! Just the ambiance alone is already enough to pull me in. Spacious, refreshing, lush, and just the perfect sophisticated garden cafe right smack in the middle of a building. 'Tis how the
Oasis Garden Cafe
is.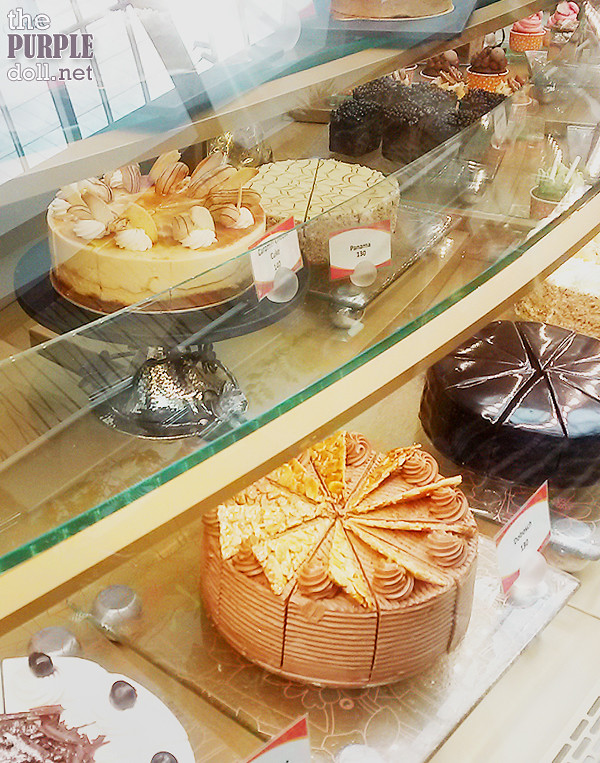 Beautiful, decadent-looking cakes, pastries and pralines and specialty teas by da.u.de -- how can I not be charmed? After seeing this very charming cafe, I swear to come back and try out their goodies and have me a luxurious yet also laid-back afternoon tea time.
6. Exclusive Access to VIP Gaming Salons
For those who love gaming, the
Sky Tower
brings in new gaming facilities on the third floor -- 10 new and spacious gaming salons with 66 VIP gaming tables and 223 slot machines. Now those who require more privacy can enjoy and play at ease.
The VIP guests also have exclusive access to other amenities in the hotel, as well as the exclusive
House of Zhou
and
The Macallan Whisky Bar
both on the third level.
7. Exclusive Chinese Dining at House of Zhou
House of Zhou
is an exclusive restaurant for the VIP gamers on
Sky Tower's
third level, which specializes in Cantonese cuisine. I had the mistake of not peeking in on
House of Zhou's
menu. However, judging how I enjoyed
Solaire's
other Chinese restaurant, the
Red Lantern
at the first phase, I figured
House of Zhou
has good eats, if not, even better than
Red Lantern's
. 'Cause hey, 'tis an exclusive resto, so food and service are probably fitting for VIPs, right?
8. Lounging at The Macallan Whisky Bar
Another perk of being a VIP gamer at
Solaire
is exclusive access to the sleek and swanky
Macallan Whisky Bar
which oozes with large doses of a gentlemen's club vibe. I'm not sure if there's another whisky bar around in the metro, but it was really nice to see a bar dedicated to scotch. And while it may take a while until I can finally enjoy the whisky at this place,
when I finally learn to appreciate whisky
, I swear I enjoyed lounging around and taking photos on their beautiful, manly chairs.
9. State of the Art Entertainment
Seating area by the Snack Bar
Apart from offering marvelous accommodations, dining, gaming and shopping, the new
Sky Tower
also houses
Solaire's
crown jewel,
The Theatre
. This state-of-the-art entertainment facility is a 1,760-seat lyric theater designed for a wide range of theater plays, musicals, dance performances and concerts with its superior audio-visual technology that will surely give guests the ultimate entertainment experience.
And to make visiting
The Theatre
more convenient, there's a connected multi-level parking garage that can easily accommodate and secure over 3,000 vehicles.
10. Events Spaces Perfect for Any Function
Sample of centerpiece in a banquet
For business events and other functions, the
Sky Tower
also features
The Forum
, a 2,000 square facility with 8 meeting rooms, 2 boardrooms, and a column-free grand ballroom with a flexible pre-function area -- all equipped with state-of-the-art presentation equipment and are provided with full banquet and catering facilities. And if these function rooms at
The Forum
doesn't look impressive to you, then I don't know what will.
゜゚・*☆*・゜゚・*☆*・゜゚・*☆*・゜゚・*☆*・゜゚・*☆*・゜゚
The new
Sky Tower
is definitely a very welcome addition to the already-lavish first phase of this resort complex. A 17-story five-star hotel that features 312 suites, more dining options, additional VIP gaming areas, an exclusive Chinese restaurant and a whisky and cigar bar for VIP gamers, state-of-the-art meeting rooms, a shopping hub, and a 1,760-seat lyrical theater. I don't know about you, but these are very enticing for a true urban dweller!
This walk through
Solaire's Sky Tower
is only a sneak peek of what this world-class integrated resort can offer. I myself is very much stoked for more goodies to unveil. And of course, how can I not mention that I hope to one day stay in one of the
Sky Tower's
suites?
In my dreams nalang ba? Hope not.
It would also be really cool if I get to experience watching a show at
The Theatre
. But if there's one thing that's for sure, it's that I'll definitely return to try out the
Oasis Garden Cafe
! And perhaps, get a 2nd taste of
Waterside Restobar
.
Anyway, congratulations
Solaire Resort and Casino
for the opening of your spankin' new
Sky Tower
! With all these reasons to love the
Sky Tower
, I definitely can't wait to be back.