Torch Restaurant: International Favorites & More in TriNoma
For the past year or two, we've seen more and more restaurants open in the metro. A lot more than the number of clothes I own, actually. And while those gaining popularity at the moment are ones offering specialized menus, I can't deny that joints carrying more variety still has their own charm. For one, dining in with friends and family who have different taste preferences than yourself seem much easier at these types of restaurants. And today, let me share with you about one of my favorite
chopsuey
restos, as I call it -- where I can confidently bring friends and family without worrying they won't find a thing they like on the menu.
If you've been a reader since 2013, you might've actually stumbled upon my review of this
international restaurant in Greenhills
. Fast forward to 2015, this resto called
Torch
now has 3 more branches -- UP Town Center, TriNoma, and their newest store yet in Greenbelt 5. But today, what I'll be blogging about is my visits (three trips, that is) to their TriNoma branch, which opened late last year. 'Cause as a CaMaNaVa northie, this is the most accessible to me. And no, I haven't been to their other branches yet, except for their first one in Greenhills.
Unlike their store in GH,
Torch Restaurant
in TriNoma sports dimmer ambient lighting with more earth-toned modern interior. It still retains the indoor garden feel though with the prominence of greens on its walls. And while I feel like their first store is bigger, this TriNoma branch can still sit a good number of diners. Actually, for the 3 times I've been to the restaurant, I never had to wait for a table despite the place looking full and busy.
I know I've stressed enough how
Torch
offers a wide variety of dishes. But to make my point clearer, let me just throw it out there that
Torch
carries American favorites like buffalo wings and baby back ribs, as well as offer sushi on top international staples like salads, pasta, pizza and steak. So really, you won't have to argue with your dining companions if you wanted to satisfy your sushi craving while all 'em were fixated on having pizza! d(。ゝд・)
Sushi Rolls
And of course, since I already mentioned sushi, who am I to miss it from
Torch's
menu?
I know it might be trivial, but it's really nice how they serve the wasabi. It was just surprising though that on my second visit, the wasabi ball wasn't smiling anymore... (。•́︿•̀。)
✓ Cream Cheese Salmon Roll (P339.95)
I was with my little sis on my first visit, and we just loved this sushi roll! As its name says, it has salmon and cream cheese, and is coated with fried panko. Although it might not look extravagant, this tasted delish! Sweet, savory, creamy with a nice crunch. It also comes with a savory unagi sauce and Japanese mayonnaise that beautifully complement the flavors.
Smoked Salmon Truffle Sushi (P449.95)
During my second visit, when I was with the boyf, we had this hand-rolled sushi with mango, cucumber and kani topped with wakame, smoked salmon and roe, drizzled with white truffle oil, and finished off with a fried quail egg. Compared to the previous sushi, this definitely looked fancier! It tasted like your usual California maki but with the salty and savory flavor of smoked salmon, and the distinct notes of truffle oil. It was good, but it didn't really made me go ooh and ahh like the cream cheese salmon roll did.
On my third visit, my lil sis and I decided to try this best-seller of a sushi -- freshly-baked sushi roll filled with tempura, tamago and Japanese cucumber, then topped with spice-baked melted mozzarella. Yum! This may not look photogenic, but every bite made me want more! The sushi in itself is already good with balanced notes of savor and freshness. But the melted cheese with a drizzle of the sweet and spicy sauce made this all the more irresistible!
Pizza and Pasta
Though I really dig
Torch Restaurant's
sushi offerings better, they also carry a fairly decent selection of pizzas, panizzas and pastas to satiate that undying Italian food craving.
White Truffle Sausage Panizza (P429.95)
Complimentary fried pasta sticks, and "How to Eat Panizza"
And since I wanted pizza but nothing too heavy, I had one of their panizzas -- roll-up thin crust pizza with grilled Italian sausages, white truffle oil and mozzarella, served with refillable alfalfa sprouts, arugula and salsa. I've always loved panizzas and this was no exception. Granted, the actual panizza wasn't extraordinary, but I still enjoyed this to the last roll.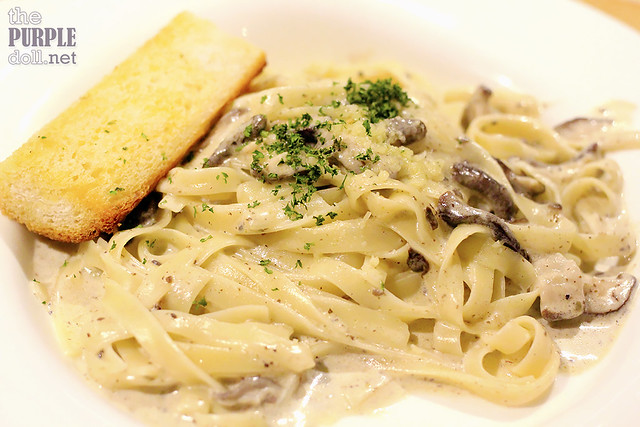 I've never tried any of
Torch's
pastas yet, so when the boyf ordered this dish, I was quick to take the first forkful. Haha! Creamy, mushroom-y and savory with just the right hint of truffle -- this fettuccine dish really spelled "comfort" food. However, the boyf didn't seem to think it was anything special, although he did finish everything on the plate.
Main Entrées
For those who can't live without rice (like my little sis and I),
Torch
also offers a selection of personal-sized entrées, whether it be of beef, pork, chicken, lamb, or seafood.
✓ Jabanero Baby Back Ribs (P484.95)
On our first trip to
Torch
, my little sis ordered this serving of half-slab smoked ribs glazed with mango chipotle barbecue sauce and garlic parsley rice, and she loved it! I got a taste of it, and I can't deny that it was good. Smoky, savory, tender and simply succulent.
#MapapariceKaTalaga
On her next visit to the resto, she ordered the same thing! And while the glaze was sweeter the second time around, it was still really good that my sis just had to finish the plate despite already feeling full.
Baked Fish Fillet in Tangerine Teriyaki (P294.95)
My first entrée at
Torch
TriNoma didn't go quite well though. I had this oven-baked John Dory roulade in tangerine teriyaki sauce, served with buttered garlic parsley rice. The fish itself was cooked well, soft and moist. However, while the outside was tasty as it's glazed with the sauce, the inside was rather bland. I had to put some sauce to the inner part of the roulade just so it would taste like something. But as you can see on the photo, there really isn't that much sauce in the first place. So yeah, I ended up not finishing my plate. Which I rarely do, by the way.
✓ US Angus Tenderloin Salpicao Medallion (P479.95)
The next time I ate at
Torch
with my little sis, I decided to go with something
I've already had and loved
before. And I can't be any happier! Served on a double-deck marble tile with a charcoal heater below, this medallions of certified US Angus beef wrapped in bacon with garlic rice on the side, was just what I needed after a whole day of running errands.
I asked for medium doneness, but I think that was a mistake. Since the meat continuously cooks on the heated tile, I ended up with medium-well to well-done beef, which I'm not a fan of. So if ever you'll be ordering this item, please bear this issue in mind so you won't end up with meat too done for your taste. Or, you can also ask for the staff to put out the heater.
Beverages
This section was supposed to be dedicated to desserts. But as unusual as it may sound, I actually haven't had desserts at
Torch
TriNoma even after visiting the restaurant three times already! I guess we always end up eating our stomachs to the brim! ~( ´•︵•` )~ My sis and I have talked about ordering desserts first next time though!
Milo Dinosaur (P120) and Cranberry Juice (P60)
Anyhow, my sister and I would usually just have warm water whenever we eat at
Torch
. But with the boyf, I'm always tempted to order a drink since he never passes the chance up! So on my second visit to
Torch
, I had a glass of cranberry juice since it seemed the healthiest choice. Haha! The boyf on the other hand, enjoyed his jug of Singaporean favorite -- iced Milo with Milo powder on top... Which I can easily make for him at home. Toinks! ◟(◔ั౪◔ั )◞
THE VERDICT
After 3 visits to Torch in TriNoma, I can definitely say that they serve up quality dishes, and at pretty big portion sizes too. However, although most diners go for their pizzas, I think their sushi is one of their strong points! I don't even think I can come in to Torch without ordering any of their sushi! There are of course, items which can still be improved, but overall, Torch is a fool-proof destination for groups with varying food preferences.
It was quite odd though that for my first 2 visits, when they were still in soft opening, service was faster. Although I'm not sure if they're still in soft opening on my most recent trip (just last week), service seemed so slow. It even took us 4 times of following up to get a refill of water! But the staff's courteousness and friendliness still won us over. We can't bring ourselves to be mad at waiters and waitresses who wear genuine smiles.
Taste 4/5
Ambiance - 4/5
Service - 3.5/5
Price - 3.5/5
Overall Value - 4/5
Torch Restaurant, TriNoma
2/L TriNoma Garden Restaurants, ESDA cor. North Ave.,
Quezon City, Metro Manila, Philippines
Facebook | Twitter | Instagram

Other Branches:

Greenhills, San Juan
63 Connecticut St., Greenhills
(02) 477-3771; 502-0000

UP Town Center, Quezon City
G/F UP Town Center, Katipunan
(02) 287-8675

Greenbelt 5, Makati City
1/L Greenbelt 5, Ayala Center