Posh Nails: DETOX Mani+Pedi with Cuccio
When it comes to one's sanity, I always believe that no matter how busy a person is, it's important to still squeeze in some time for self care. And although I am a late bloomer when it comes to reveling in nail pampering, I'm glad I was able to attend a mani-pedi event hosted by
Posh Nails
a few months ago. It was timely too since I was under a lot of stress back then, and until today, which is unjustly the reason behind my inactivity here on the blog. ヾ(๑o̴̶̷̥᷅﹏o̴̶̷̥᷅๑)ゞᔆᵒʳʳᵞ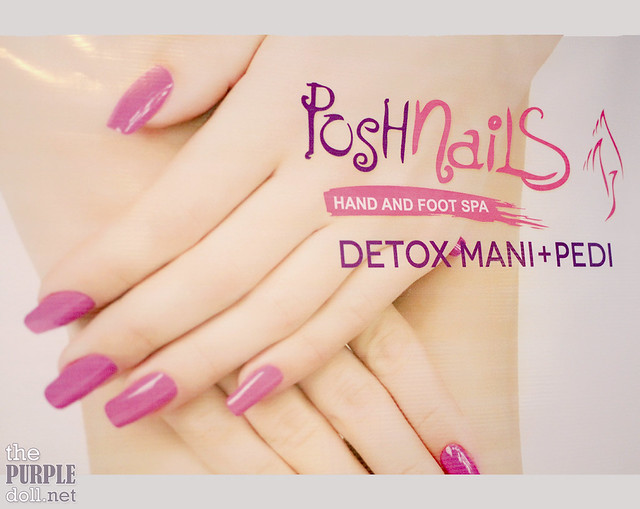 This year,
Posh Nails
celebrates its 13th year anniversary. And as a pioneer in themed manicures and pedicures, it is just fitting that
Posh Nails
launches a new nail salon service perfect for those who yearn for a
"detoxifying"
experience inside the nail salon's iconic pink and purple interiors. And guess I sure am lucky, as I was one of the first few people who got to try
Posh Nails' DETOX Mani+Pedi
using all
Cuccio
products.
But first, check out this really sweet interior at
Posh Nails
Tomas Morato branch! With pinks, purples, and cute, dainty yet still elegant space, I sure was excited to have my "me" time!
Loved this cute nook at Posh Nails Tomas Morato!
Pretty chandelier that adds elegance to the cute interiors
They use all Cuccio products for the DETOX Mani+Pedi.
Check out this whole range of Cuccio products!
Yup, even the nail polishes are Cuccio!
Although, they also offer a wide variety of polishes from other brands.
DETOX Mani+Pedi
This package uses nature-based products designed to nourish and moisturize, along with a promise to deliver antioxidants to neutralize free radicals in the body caused by stress. So really, this new service, won't only beautify the hands, feet and nails, but also detoxify.
Price for DETOX Mani+Pedi with Cuccio
Includes soak, spa, scrub
and manicure or pedicure.
Hands - P525 | Feet - P650
My manicure at Posh Nails
OPI "Life Gave Me Lemons" for my toe nails
(which I'll spare you from seeing)
Posh Nails
founder, Ms. Cat Ilacad, personally believes in
Cuccio
products, so patrons are assured of the quality. And I sure did experience a wonderful pampering service where my skin was undoubtedly renewed, and my nails were revitalized. ੭व(๑• .̫ •๑) ✧
The new
DETOX Mani+Pedi
menu is available in 30
Posh Nails
branches nationwide.
Apart from the
DETOX Mani+Pedi
services,
Posh Nails
also offers other pampering packages which use other quality brands. The next time I visit this nail salon, I'm thinking of trying their paraffin wax and nail art services. And of course, another round of foot spa! (*^ω^*)v
Posh Nails, Tomas Morato
CTTM Square Bldg. Corner Timog, Tomas Morato
Quezon City, Metro Manila, Philippines
(02) 926-5077; (0906) 200-6435
Official Website | Facebook Page | Instagram