KPub BBQ: Bibimbap Lunch Sets + KBBQ Goodness
Koreanovelas and KPOP have both been a big part of modern Pinoy culture. And suffice it to say, so does Korean BBQ. Whether buffet or ala carte, I have yet to meet a person (except for vegans and vegetarians, of course) who can't say no to this scrumptious meat fest. So today, let me tickle your Korean BBQ fantasies with this review of
KPub BBQ's
new offerings.
Unlike other Korean BBQ joints,
KPub BBQ
is a meat-all-you-can concept restaurant, infused with a KPOP theme. It opened in early 2013 at The Fort Strip in Bonifacio Global City, and have since expanded with branches at TriNoma in Quezon City, Cebu Business Park, and soon, at Glorietta 2 in Makati.
Since it has been around for quite a while, I've actually visited and indulged in their meaty treats for a couples times now. And yup, I sadly cannot blog every single establishment I visited due to time constraints, even if I wanted to. But today, let me finally share with you one of my experiences at
KPub BBQ
. 'Cause hey, apart from filling me up and satisfying me every single time, this time around, they even have a neat promo I'm sure you'll love!
If the facade and interiors don't scream KPOP to you, then I don't know what will.
They play KPOP music videos on the screens, and even have signed KPOP idol posters!
They also have a private area for functions and other gatherings.
For this trip, we visited
KPub BBQ
in TriNoma. It's smaller than their BGC branch, but still very spacious and can sit about 500 diners at once. Told 'ya it's big! There's also live band performances from Tuesdays to Saturdays starting at 8PM (No entrance fee from Tuesdays to Thursdays; P200 entrance fee on Fridays and Saturdays).
Weekday Bibimbap Lunch Promo
Since last month,
KPub BBQ
has rolled out its
weekday lunch
promotion. When you buy any of the dishes included in the promo (choose from beef, pork, chicken, fish and stews), you get a free standard size bibimbap.
Bibimbap is a popular, signature Korean dish which literally means "mixed rice". It's served in a stone bowl with warm white rice, sautéed and seasoned vegetables and mushrooms, gochujang (chili pepper paste) or doenjang (fermented soybean paste) then topped with raw egg. Served hot, you'll have to stir and mix everything together thoroughly to enjoy.
A single serving is actually already good for 2 people!
KPub BBQ
also gives out complimentary banchan (side dishes) like kimchi, sweet potato mash, and seasoned veggies. Not sure, but I think you can also ask for free clear soup.
For the mains, you can choose any among 6 dishes. We got to try these 5.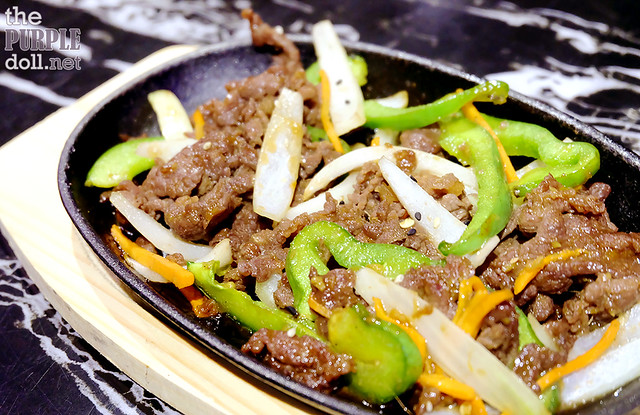 So Bulgogi (P299)
Grilled marinated beef
Jeyouk Bokkum (P299)
Spicy pork stir-fry
Dak Bulgogi (P299)
Grilled marinated chicken
Sundubu Jjigae (P299)
Spicy soft tofu stew
Godunguh Gui (P349)
Grilled mackerel
All five dishes we tried were good -- the meats were all soft, succulent and flavorful, the stew was spicy and kimchi-y just the way we like it, and the mackerel was simple but done right. You couldn't go wrong with any of these items. Although if I have to choose a favorite, it'd be the
Jeyouk Bokkum
which wasn't just spicy but also had hints of sweetness. Yum!
The
Bibimbap Lunch Set
promo is available during weekday lunch from 11AM to 1PM. Personally, I think it's pretty
sulit
since a single set (1 dish + 1 bibimbap) is already good enough for 2 people. If you split the bill, then it's even more
sulit
!
Meat-All-You-Can
KPub BBQ
is known for its eat-all-you-can Korean BBQ. And since we were already there, we made sure not to miss this offering! Unlike most Korean BBQs though,
KPub
has 3 different rates for its meat-fest --
Eat & Run
,
Eat & Run Level Up
, and
No Limits
.
Complimentary steamed egg, kimchi-pajeo, steamed rice and kimchi fried rice, soup, house salad, lettuce, banchan and sikhye (rice punch) for all 3 buffet rates
Eat & Run (P499): 1 hour unlimited refills of 7 signature meat dishes
Beef Sukiyaki, Pork Belly, Korean Style Bacon, Marinated Pork Belly in Sweet and Spicy Sauce, Marinated Pork Chop, Marinated Chicken in Sweet and Spicy Sauce, and Marinated Chicken in Sweet Soy Sauce
Eat & Run LEVEL UP (P699): 1 hour unlimited refills of everything in Eat & Run, plus 8 more choices
Additional: Garlic Butter Shrimp, Marinated Fish Fillet, Japchae, Fish Tofu, Calamari, Lamb Chorizo and Pizza (Kimchi and Cheese/Tomato and Cheese/Bulgogi/Spicy Pork)
Meat-All-You-Can (P899): No time limit, everything above plus more KPub signature dishes and choices
Additional: Marinated Beef Short Rib, Marinated Cross-Cut Beef Short Rib, and Dried Seaweed Roll with Kimchi or Beef Bulgogi, and Korean Ice Cream
Just some of the meats and seafood available for grilling
Mouth-watering meaty goodness on the grill
Complimentary Melona for dessert, and other Korean ice cream
for Meat-All-You-Can
Sikhye (rice dessert drink) to cap off the meal
THE VERDICT
Meats and grilling is sure a great combo, which makes Korean BBQ places a definite crowd-pleaser. But if you're a KPOP fan, or into more sophisticated, colorful and modern restaurant ambiance, then KPub BBQ is a perfect fit. It's a little more expensive than other mom-and-pop-style Korean BBQ restaurants, but if you choose the right package (or rate), you can enjoy and make the most out of your Korean BBQ experience. I have yet to confirm, but I think, the 1-hour limit for Eat & Run is only for the refills, so you can still grill and enjoy your meal until you actually finish.
And if you're within TriNoma or at BGC during weekday noons, their Weekday Bibimbap Lunch Promo is a steal! Good value, reasonably priced, and can even be shared by two.
Taste 4/5
Ambiance - 4/5
Service - 4/5
Price - 3/5
Overall Value - 4/5
KPUB BBQ, TriNoma
Level 3 TriNoma Mall, North Ave.,
Quezon City, Metro Manila, Philippines
(02) 910-8858
Official Website | Facebook | Instagram

Other Branch:

Bonifacio Global City
G/F The Fort Strip, 5th Ave., BGC, Taguig
(02) 847-1961