Oakroom: Saturday Night Fever Dinner Buffet + Giveaway #9!
While I love the variety I can get from buffets, one of the things I don't dig is how most of them don't offer spectacular dishes. I feel like the food porn is more for the eyes than for the palate. However, I've recently come across one which doesn't only offer quantity, but also quality. It's at the
Oakroom
in
Oakwood Premier Joy-Nostalg Center Manila
.
Located in Ortigas, the
Oakroom Restaurant and Bar
nestled at the 6th floor of
Oakwood Premier Joy-Nostalg Center Manila
, is the hotel's signature restaurant. And unlike other hotel buffets, there are different themes and specials at the
Oakroom
every single day. For our visit though, since it was a Saturday night, we got to try out the
Saturday Night Fever Dinner Buffet
which doesn't only feature Filipino and Pan-Asian favorites, but also a station dedicated to cronuts. Yup, you read it right. CRONUTS!
Normally, I don't like eating at hotel buffets for dinner because my shots always look like crap. However, you've got to believe me that
Oakroom's
dining space looks so nice at night. I loved the warm ambient lighting that sets a romantic mood. The table setup's also more laid-back compared to other hotel restaurants I've been to.
The Buffet Offerings
Variety at the
Oakroom's Saturday Night Fever Dinner Buffet
isn't as extensive as those of other hotel buffets. This didn't discourage me and my partner though, as we've seen really promising items on the spread. Just take a look at these!
Smoked Salmon and Cream Cheese Sandwich
Chicken Tortillas and Shrimp Cocktails
Salad Dressings: Roasted Pumpkin, Walnut Vinaigrette, Basil Olive Oil, Roasted Garlic and Shallot
Pre-made Salads: Cobb Salad, Waldorf Salad,
N.Y. Style Cheesedog Salad, and Caesar Salad
The beau's kind of salads: Pulled Pork and Pulled Chicken Salad
The meal starters are pretty basic, but these are the kinds the beau and I look for in buffets. Not the little hors d' oeuvres that people barely get. As for the main dishes,
Oakroom
has a good line-up, and everything tasted as good as a la carte dishes in hotel restaurants. Definitely a far cry from dull and bland -- two adjectives I usually associate with main dishes in many buffets.
Rib Eye Steak -- juicy and definitely round two-worthy
Fried Chicken and Buffalo Wings
Italian Meatball Pasta -- flavorful and cooked perfectly; definitely made me think otherwise
of most pre-cooked pastas on chafing dishes at other buffets
Mashed Potato and Pork Ribs Barbecue -- soft, tender, succulent and very flavorful;
another round two-worthy
Chuletas de Cordero (Grilled Lamb) and Corn on the Cob
Most of the main dishes tasted great, but what really caught our attention was this section --
The Cronuts Station
. Unlike bakeries and cafes you can get other cronuts from, the
Oakroom
made their
Savory Cronuts
customizable!
Choose from these 4 kinds of savory cronut, or invent your very own!
Cronut Benedict
- poached egg, smoked ham, drizzled with Hollandaise
Cronut de Pinoy
- pulled adobo, cheddar, topped with crackling
Cronut de France
- foie gras (duck liver) with balsamic glaze
Cronut Philly
- shredded beef, onions, topped with cheese sauce
To complete the buffet spread is of course the dessert section.
Chocolate Fondue with fruits, mallows and candies
More cakes at the Oakroom
Unlimited Magnum ice cream bar FTW!
What I Got
I know this blog entry is already pretty long, so I won't delve much into the taste of each and every item I got. Rest assured though that all of them tasted good!
First plate: Shrimp cocktail, chicken tortilla, pastrami, smoked turkey, smoked salmon
and cream cheese, and ruben sandwich
Shrimp chowder to warm up the tummy
Second plate: Pork ribs barbecue, buffalo wings, fried fish, hotdog,
Italian meatball pasta, and grilled lamb
The beau and I then took a trip to the
Savory Cronuts
station and made our very own cronuts!
(Or asked the chef to assemble our cronuts rather.)
Can you guess what kind of savory cronuts we got?
My glutton of a beau asked if he can combine the
Cronut Philly
and
Cronut de France
for his savory cronut.
(He said he wanted to hit two birds with one stone.)
The beau's savory cronut with shredded beef and onions, cheese
sauce, foie gras, and balsamic glaze
As for me, I decided to take the more minimalistic approach...
His and her savory cronuts
Yup, I had the
Cronut de France
which was soooooooo good! I swear, I would've eaten a dozen of these if only I wasn't super full yet!
(Okay, so maybe 3 and not a dozen.)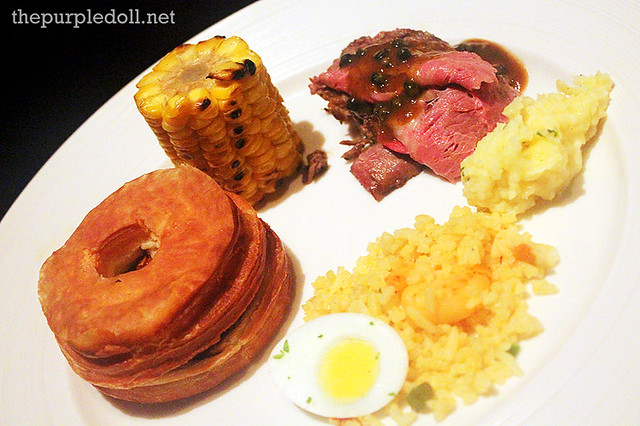 Third plate: My cronut de France, corn, rib eye steak, mashed potato and jambalaya rice
Last plate: watermelon slices, blueberry cheesecake, red velvet cake, and apple crumble
To end our dinner, I had some sweets and of course, a bar of Magnum ice cream!
THE VERDICT
Oakroom's Saturday Night Fever Dinner Buffet really surprised me. When I first checked out the buffet spread, I was a little disappointed that they didn't have my favorite meal starter -- sashimi. However, upon trying out the dishes they do have, I can say that what they offer is quality. They may not have an extensive array, but each and every single one of the items was nothing short of great. And of course, how can I not mention the awesomazing Savory Cronut Station? The Cronut de France was my most favorite dish out of everything I had from the spread. And that alone
(Unlimited foie gras anyone?)
is enough reason to make me come back again and again!
Taste - 4/5
Ambiance - 4/5
Service - 4/5
Price - 3.5/5
Overall Value - 4/5
Buffet Rates:
Saturday Night Fever Buffet (6PM to 10PM Saturdays) - P1,290++
Spectacular Sunday Selections Brunch Buffet (12PM to 3PM Sundays) - P1,190++
Sizzling Hot Wednesday Dinner Buffet (6PM to 10PM Wednesdays) - P990++
Oakroom, Oakwood Premier Joy-Nostalg Center Manila
6/F Oakwood Premier, 17 ADB Avenue, Ortigas Center,
Pasig City, Metro Manila, Philippines
(02) 637-7888; 910-8888
Official Website
Facebook Page
-------------------------------------------------------------------------------------------------------------------
So another thing that separates
Oakroom
from other hotel restaurants that offer buffets, is how they change themes every quarter. And while what I've tried was their
Saturday Night Fever Dinner Buffet
, the good folks from
Oakwood
are generous enough to let one of my readers (plus his/her date) try out their upcoming
Chinoy Brunch Buffet
!
Prize:
(1) winner of
Chinoy Brunch Buffet
for 2 at
Oakroom Restaurant & Bar
Valid every Sunday from 12nn to 3pm.
PLEASE READ!
Guidelines to enter the giveaway raffle:
Be a Metro Manila resident or someone (even not within Metro Manila) who can actually use the prize. (Don't join please, if you know you can't use the GC.)
Follow the Rafflecopter mechanics below to join.
Make sure you do all the first six mandatory steps to be eligible.
a Rafflecopter giveaway
The giveaway raffle will run from today until May 9, 2014. The winner will be drawn, announced and contacted a few days after. So join now and get a taste of the
Chinoy Brunch Buffet
at
Oakroom Restaurant & Bar
!