Osaka Ohsho: World's #1 Gyoza now at SM Mega Fashion Hall!
As you know, Japanese cuisine is my most favorite out of all the cuisines I've ever tried. So over a month ago, when I received an invitation to try out
Osaka Ohsho
which is dubbed to have the world's #1 gyoza, I just felt it would be criminal to decline.
Osaka Ohsho
, which obviously originated in Osaka, Japan back in 1969, is known as the world's #1 restaurant specializing in gyozas or Japanese dumplings. It prides itself as
"The King of Gyoza"
, as they've mastered the art by focusing on using fresh ingredients, training their chefs extensively, and being particular with the temperature of their griller.
This specialty restaurant have already branched out to Korea, Shanghai, Hong Kong, Thailand and Singapore. And finally, it has arrived in Manila! Hooray for us, gyoza lovers!
Located at the 3rd floor of Mega Fashion Hall, SM Megamall's latest expansion (Bldg. D),
Osaka Ohsho
greets its hungry diners with a fusion of modern and traditional Japanese interior. I really dig how the place looks warm, and mixing patterns
(See their couch seating? Love the newspaper print on them!)
with mostly wooden furniture.
The Osaka Ohsho Gyozas
While I've tried a good number of gyozas in the metro, this is the first time I've been in a Japanese restaurant specializing in gyoza. Actually, now that I think about it, I don't think there's any other gyoza restaurant in the country yet. But knowing
Osaka Ohsho's
reputation, I have to admit, I went in with higher-than-usual expectations.
Original Gyoza (P175 for 6 pieces; P350 for 12 pieces)
There are 3 variants of gyoza in
Osaka Ohsho
, and the first one we've tried was of course their classic, the
Original Gyoza
which has a beautifully thin yet sturdy wrapper that's delicately crisp but still soft on some parts. Inside is just the right amount of meat filling made from three different pork cuts, combined with garlic, ginger and cabbage.
Every order also comes with 3 different sauces --
original
,
miso
and
chili oil
, which you can mix to make your very own dipping sauce blend.
✓ Nori Gyoza (P190 for 6 pieces; P380 for 12 pieces)
I already have high marks for the original variant, but this
Nori Gyoza
is undoubtedly my most favorite among the bunch. Just like its original sibling, every piece also has that delicate crispiness from being pan-fried to just the right temperature.
See the nori pieces inside this Nori Gyoza?
What made this different from the other variants is the nori or dried seaweed tucked with the meat filling. I've always loved nori so no wonder I went gaga over this gyoza. Actually, even if you're not much of a nori fan, give this a try. It'll blow you away!
✓ Cheese Gyoza (P190 for 6 pieces; P380 for 12 pieces)
The last variant is the
Cheese Gyoza
which obviously has cheese combined with the meat and veggie filling. Like the other 2 gyoza variants, this too had a good gyoza skin, as well as wrapper-filling ratio. It just goes to show that every serving of gyoza at
Osaka Ohsho
has been consistent. And while I still prefer the nori one, this is another must-order if you visit this restaurant.
(Actually, you should try every variant!)
Gotta love this cute Osaka Ohsho gyoza takeout box!
While I highly recommend to eat the gyoza inside the restaurant
(Everything's better eaten when freshly cooked!)
, I can still say that
Osaka Ohsho's
Japanese dumplings are still quite good even for takeout. Of course, not as good as if you eat them right after they're served. I got to take home our gyoza leftovers during this trip, and while the skin wasn't as delicately crisp as when I had it at the resto, every piece was still very tasty.
Other Dishes at Osaka Ohsho
When we visited
Osaka Ohsho
, we were given an exclusive lunch set to try out the other good dishes of the restaurant apart from their bestselling gyozas.
✓ Black Vinegar Chicken (P350)
Photo is just a sampler. Actual serving size is definitely bigger.
I'm a big fan of black vinegar. I love eating it with xiao long bao. I actually put it in every dimsum I can ever think of! So when we were served with the
Black Vinegar Chicken
, I just knew I'll instantly be a fan. And I did! It's hard to accurately describe the taste. It's sweet, savory and slightly sour, but it's definitely far from the famous Chinese sweet and sour dish that I'm just not a fan of.
(Sorry sweet and sour pork fans! No offense.)
It oozes with all the good things about black vinegar, and it's also slightly crispy on the outside and very tender on the inside. Another winner for me!
Crab Cream Croquettes (P225 for 2 pieces)
We also got to try the
Crab Cream Croquette
which is a filling appetizer made from a crispy panko shell that oozes with creamy goodness. While I really love how this is so small yet so hearty, so creamy and so crispy at the same time, it was a shame the crab flavor wasn't that potent. It's still pretty good though.
Miso Soup and Chahan to complete the lunch set
Of course, lunch wouldn't be complete without these 2 -- one of my most favorite soups, the simple but tasty
Miso Soup
, and the Japanese fried rice
(which you can order a la carte for P240 for a big bowl good for 2)
,
Chahan
.
✓ Fuwatoro Tenshin Han (P310)
If you want to take your rice to a whole new level, go for the
Fuwatoro Tenshin Han
. Not to be confused with the bald DBZ character, this dish is one of
Osaka Ohsho's
signature items made from premium Japanese Koshikari, a type of super premium Japonica rice enveloped in a super fluffy omelette, and bathed in a rich gravy.
I'm already happy with just regular Japanese rice. But for those very particular with their rice, this is the real deal! Every grain is super soft that it'd feel like chewing pillows. And don't get me started on the uber fluffy egg! It's definitely the fluffiest omelette I've ever had in my entire life! This is definitely a meal on its own. Very hearty. However, it's more on the texture than flavor, so you might want to eat this with a viand, or an order of gyoza.
I didn't have any of these anymore as I was already getting full. But if you're into fried things or if you have kids with you, you might want to check out the
Kushi Age Katsu
. It has an assortment of deep-fried pork, chicken, seafood and vegetables on skewers.
The Desserts
Although I was almost full at this point, thanks to the filling dishes plus my heavy choice of drink, a
Matcha Milk Smoothie (P125)
, I still managed to leave room for dessert.
Japanese Parfait with Homemade Ice Cream (P280)
and Homemade Japanese Ice Cream (P125 per scoop)
For dessert, we had the
Japanese Parfait
which has cornflakes as base, topped with fresh mango balls, black sesame and matcha green tea ice cream, whipped cream and chocolate drizzle. You can also order their homemade ice cream per scoop.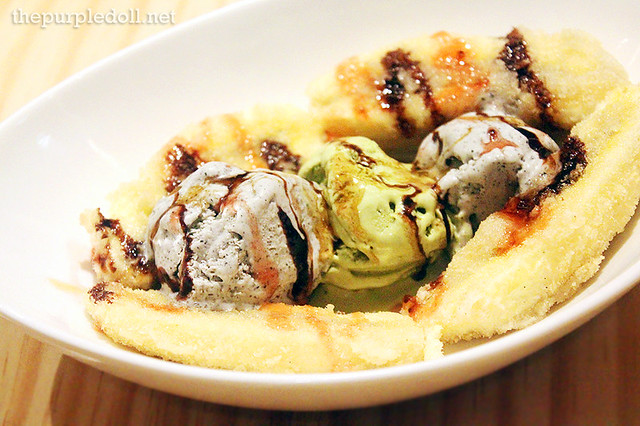 Banana Tempura with Homemade Japanese Ice Cream (P330)
Our companions had the
Banana Tempura
with 3 scoops of
Osaka Ohsho's
homemade ice cream in black sesame and matcha green tea. Simple yet a satisfying ending to a hearty Japanese lunch.
THE VERDICT
As a Japanese food lover, I'm so glad that Osaka Ohsho has finally come to Manila! While I still love restaurants who offer wide chopsuey-style menu, there's something about specialty restaurants that's so assuring. Seeing how katsu houses and ramen shops are thriving, it just goes to show that restaurants that put more focus on what they specialize in can create, and even sustain, a hype. Actually, I don't think they're just hyped. They're good that's why people flock in them. The same goes for Osaka Ohsho which left me wanting for more. Their gyozas, especially the nori variant, is my favorite gyoza of all time. So to my favorite gyoza resto, see you again soon!
Taste - 4.5/5
Ambiance - 4/5
Service - 4/5
Price - 4/5
Overall Value - 4/5
Osaka Ohsho, SM Megamall
3/F SM Mega Fashion Mall, Julia Vargas Ave.,
Mandaluyong City, Metro Manila, Philippines
(0917) 828-5011
Facebook Page
Instagram