Tous Les Jours: Freshly-Baked Breads and Cakes Now in Trinoma
You guys might already know my most favorite cuisine.
(Clue: Starts with a J)
But if you ask me what my favorite type of food is, I won't hesitate to tell you that it's "carbs". Yup! The type of food almost everyone is scared of is actually my favorite of them all. Whether it be rice, pasta, pizza or breads, it'd be hard for me to resist! So when I received an invitation from one of my favorite bakeries, I didn't think twice and gave a big "Oh yes!"
This French-Asian bakery called
Tous Les Jours
, which originated from Korea is no stranger to me and my family. Since I first saw their SM North EDSA branch open back in 2012, I already became a fan,
bagging a few breads
whenever I'm in the area and even getting myself and my family
cute and pretty cakes
for several special occasions.
Tous Les Jours' newest branch opens in Trinoma
Fast forward to 2014,
Tous Les Jours
now has a total of 14 outlets all over the metro. And while I don't mind crossing to SM North EDSA or SM North Annex to get my
TLJ
fix and
pasalubong
whenever I'm in Trinoma, I along with other regular MRT riders, really appreciate that
Tous Les Jours
finally opens a branch inside this Ayala-owned mall.
Tous Les Jours
pronounced as
"too-leh-zhoo"
means "everyday" in French. And this is what I love about this bakery. Apart from offering interesting cakes, pastries and breads, they guarantee freshness as their products are baked fresh every single day.
Freshly-baked breads at Tous Les Jours Trinoma
Real Cheese Bread, Double Cheese Bread, Pure Cheese Bread,
Custard Cream Bread, Sweet Red Bean Bun and Croissant
More breads, pastries and pre-mixes (brownie, hotcake, castella mix)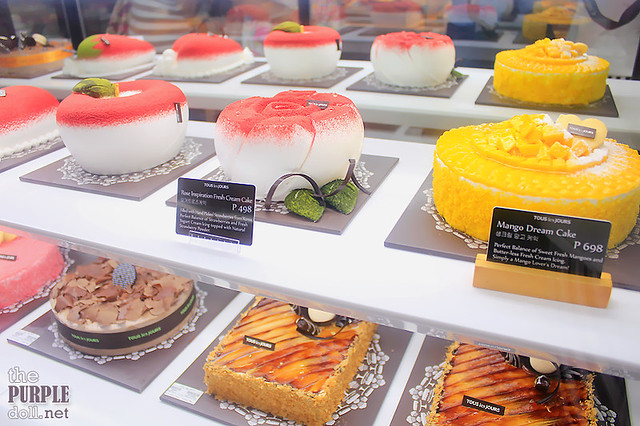 Fresh strawberry and mango cakes
Tous Les Jours' macarons at P28 per piece
Premium macarons at P38 per piece
Juices and milk at Tous Les Jours
There are a lot of products that'll surely catch your attention at any
Tous Les Jours
branch. Every time I visit a
TLJ
store, I always make sure to look around for interesting breads I can take home to my family. Of course, I also love checking out the cute and pretty cakes, and even the bottled drinks which I've yet to try.
My Favorites from Tous Les Jours
From the over-fifty-times I've visited
Tous Les Jours
, I've already grown some favorites. I can't say much about their cakes since I've only tried two. But for their breads and pastries, here are my top picks.
✓ Sweet Potato Cream Bread (P48)
✓ Sweet Black Rice Bread with Black Sesame Cream Cheese (P48)
✓ Custard Cream Bread (P38)
✓ Double Cheese Bread (P98)
✓ Chocolate Chip Muffin (P68)
Their macarons are great too. And how can I not mention the addicting
Espresso Crunch (P98)
,
Dark Chocolate Crunch (P98)
and
Pumpkin Chips (P68)
which my little sister and I can't stop munching once we've opened a pack?
The Old and The New at Tous Les Jours
Despite the Trinoma branch being the newest store of
Tous Les Jours
, there are things that remain the same. For one, quality has remained high in all branches. If you haven't noticed on the photos above, all their cakes, breads and pastries were baked fresh.
And as
Tous Les Jours
stays true to its mantra, more and more patrons flock their stores, especially at 8:30PM on weeknights when
TLJ
sells breads at 50% off.
*wink*
But as the newest branch opens, we also welcome something new. To be honest, I was surprised when I saw the Trinoma store. It was huge! I'm not sure if this is
Tous Les Jours'
biggest branch yet, but this is definitely the most spacious from all the
TLJ
branches I've been to -- SM North The Block, SM North Annex, SM Mall of Asia and Trinoma. And more space also means more seating. Hurray!
Wrapping it up!
It was my pleasure to attend the opening of
Tous Les Jours
Trinoma last week, August 25. I arrived late so I missed the cake-making demonstration by The Zombettes' Ornusa Cadness and Sanya Smith, and
TLJ's
esteemed cake decorator, Kelly Mambong.
I enjoyed the bread samples though! Had a taste of my favorites along with the new line of
Cheese Breads
Tous Les Jours
just launched. It was also the first time I got to try
Tous Les Jour's
coffee. Though I'm not big on coffee anymore, I really liked their blend, so I'll definitely grab a cup again the next time I visit! :)
I've already mentioned this on my previous
TLJ
posts, and I'll say it again.
Tous Les Jours
had already become and will continue to be a staple in our humble home. Ever since I first bought a few of their breads and pastries, I've always been back to buy more. And with the opening of
Tous Les Jours
in Trinoma, the
TLJ
staff at SM North The Block might get a break from seeing my face again and again.
Anyway, if you haven't tried anything from
Tous Les Jours
yet, I encourage you to pay any of their branches a visit. Look around, you might find something that fits your bread, pastry or cake preference! ;)
And if you're also a regular like me, what's your favorites from
Tous Les Jours
? Let me know on the comments below, 'cause I'd love to give them a try next time!
Tous Les Jours, Trinoma
Lobby Level, North Carpark Entrance (Beside J.Co)
EDSA cor. North Avenue, Quezon City,
Metro Manila, Philippines
Official Website
Facebook Page
Twitter

Other Branches:

Shopwise Arcade - Cubao, Techno Plaza 2 - Eastwood City, SM City Fairview Annex 2, SM North Annex, SM North EDSA The Block, Glorietta 4, Greenbelt 5, SM Jazz, SM Megamall Bldg. B, Alabang Town Center, Festival Mall, SM Mall of Asia, SM Southmall